Going everywhere with baby
With its new mother-child range, Marmailles Plus offers several clever and practical accessories to take baby with you everywhere, with ease. Everything becomes easier!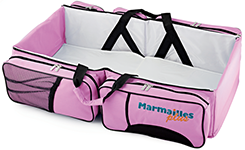 Diaper Bag / cradle 2 in 1
Unbelievable! The Marmailles Plus diaper bag can be transformed into a cradle at any time, and in a few seconds.
No need for lots of baggage anymore: your new crib / baby bag will make life easier wherever you go with baby!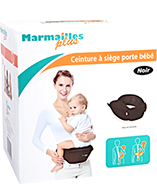 Waist belt baby carrier
Say goodbye to back pain: the Marmailles Plus waist belt carrier allows you to carry your child naturally on the hip without any back strain!
Your baby is comfortably and securely seated on the ultra-lightweight seat of the belt.
Your spine remains straight and is no longer deformed: your back is relieved.

Maximum load: about 17kg/strong>